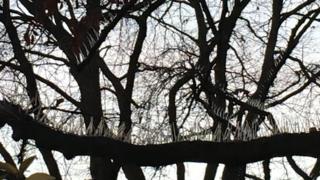 Anti-pigeon spikes put on tree branches to prevent wild birds pooing on cars happen to be branded "idiotic".
The spikes on Pembroke Road, Clifton, Bristol, were erected through the management company of nearby Bartlett Court flats to safeguard residents' "costly cars".
Hillcrest Estate Management stated the trees attract roosting pigeons and it must safeguard vehicles in the "esteemed development".
But wildlife experts have criticised the move.
Nature author Jennifer Garrett stated the spikes were a "fight against wildlife" on Twitter.
While James Common tweeted to state it had been "the best idiotic factor I have seen this season".
Another Twitter user criticised residents because of not utilizing a "sponge and bucket" to wash their cars.
And Mike Dilger, wildlife reporter for that One Show, stated: "It's another illustration of a small amount of people who reside in the town and wish the town aseptic and without any wildlife.
"They are anaesthetised to nature."
'No washing facilities'
However, one resident, who didn't wish to be named, stated the spikes "don't prevent other wildlife" and also the trees are "filled with squirrels".
"The correct answer is difficult to wash cars here due to there being no washing facilities therefore it is a significant problem for residents," they added.
Hillcrest Estate Management stated it'd attempted numerous measures to discourage the pigeons, including fake wild birds and noise deterrents, but had little success and installed the spikes in 2014.
The firm added: "Bird detritus may cause permanent harm to the paintwork on cars otherwise removed quickly and also the worst affected leaseholders wanted action taken to enhance the situation."
In September, Stevenage Borough Council, in Herts, put spikes on the tree within the town center to avoid "mess and disease".
Find out more: http://www.bbc.co.uk/news/uk-england-bristol-42409884